Walkways & Entrance Décor Birmingham
Want to enter your wedding venue in style? Want to feel like a celebrity? At Diamond
Weddings we have a vast range of walkway designs. Maybe you want a traditional
entrance with roman pillars or you may want bling crystal pillars. You can accompany
your walkway pillars with almost anything you like, fresh floral arrangements,
candelabras, vases, lanterns, crystal stands, religious ornaments, the list is endless.
Now that you have sorted out what pillars you want, its time to decide whether you want
elegant white carpet assisted with fresh petals or do you want red carpet making you feel
like royalty.
We also have the LED walkway. Dazzle your guests with our sparkling LED walkway.
Available in black and white.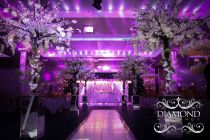 Walkways and Entrance Decor
See More...