Led Dance Floor, Wedding Party, Dance Floors Birmingham
Diamond Weddings has provided dance floors, stages, catwalks and podiums to some of the most exclusive weddings, parties, fashion shows, events and conferences throughout the UK. We Hire and sell LED dance floors across the whole UK.
Hiring a dance floor is becoming more and more popular as many people want something fresh, modern and a bit different to make their event stand out. LED dance floors can most certainly offer any event that especially with the light up disco or starlit floors. The most popular floor at the moment is our LED starlit floor which we offer in white or black and believe us they look amazing. All of our dance floors are solid and safe and lock together making them extra secure. We have a range of sizes to suit each and every event. Our dance floors can be used not only for dancing on but also work great as a fashion cat walk, a walk way for a civil ceremony or an awards ceremony. Once we know the exact specification of what you are looking for we will then be able to plan the best floor for your event. Each of our dance floors are installed and removed by our specially trained installations team who will arrive with plenty of time to assemble the flooring and will return to remove it away after you have danced the night away
The White LED starlit dance floor is currently our most popular for both hire and purchase. Being so unique and so well designed it really does give a factor to any room for any occasion from weddings to special events. With a pure gloss finish and twinkling lights dazzling you and your guests you can be sure to make a huge impression with this style of dance floor.
The Black LED starlit dance floor is currently our second most popular for both hire and purchase and again we can understand why. Being the most stunning in our opinion when a room is dark and all you can see is your feet dancing around twinkling lights you really can understand why it has become a must have in the events industry from weddings to corporate.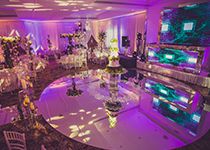 Mirror Dance Floors
See More...