Chiavari Chairs London, Chiavari Chairs for Hire Birmingham
Chiavari Chairs for Hire Birmingham
When it comes to weddings, everything must be perfect even to the minutest detail. When choosing a theme, we should aim to create that elegant ambiance upon entering the wedding venue. This means chairs are included. There are a lot of options which you can choose when selecting seatings for your guests, and sometimes you get confused. But don't be. There are chairs that are perfect fit to any occasion you could think of. These are Chiavari chairs. And when choosing these, you don't need to buy an army of chairs to accommodate your guests. Luckily, Diamond offers Chiavari chairs for hire in Birmingham.
Why Diamond's Chiavari Chairs?
Why indeed? Diamond's Chiavari chairs are perfect for any occasional, may it is for wedding, balls, graduation or parties all over Birmingham, by being the perfect seating option to all guests.
They look beautiful, simple and classy. These qualities add a touch of elegance to any venue, turning plain sight into scenic views. Its simplicity is an advantage- you can style it any way you want! If you're planning for a Bollywood or Hollywood themed wedding, choose Diamond Wedding's Chiavari Chairs hire Birmingham services. You'll find the service and the chairs are both worth it. Chiavari chairs come in various colours, materials and styles. Some are made of wood, metals or crystals and you're free to ask us for any advice. Also, add a few touches here and there, a few sashes for a burst of colour, and you're chairs will look completely different, adding a unique style to your wedding event. Diamond's products are of utmost quality. Our brand is timeless and well-known in the events planning industry, so rest assured that we are providing you with materials approved by experts.
Chiavari Chairs Hire Birmingham
Aesthetics aren't the only feature that sets Diamond's Chiavari Chairs apart from others. It's quality stretches down to its structure. Diamond, the most trusted Chiavari Chair hire Birmingham provider, offers light but sturdily built chairs. In the instance that your guests have to move around, they can simply lift or move their chairs with ease, due to its stability and light weight. Chiavari chair hire Birmingham can carry various amount of stress, so whatever the size of your guest is, our chairs can surely carry their weight. It's durability makes it a perfect choice for both indoor and outdoor events.
When talking about comfort, our chairs aren't the least bit defeated. With Chiavari Chairs hire Birmingham aesthetics and durability come cushioned seats- adding extra comfort, especially for longer events. Even without cushions, the style alone of these chairs allows unrestrained movement to the users so they can move when they want. This is an added advantage.
For any Chiavari chairs for hire Birmingham needs you may have, contact Diamond. With years and years of leading UK's wedding event planning industry, we can tell what you need in every step in your wedding (or other event) preparations. We can give suggestions to make your plan better. The decorations and materials we offer as part of our services are tested and well-thought of. We are very friendly, yet professional in our dealings. No third parties are involved to make sure that you get the best services we can offer. Feel free to contact us at 0121 551 3396 or 077 077 077 69. You can also visit our website at http://diamondweddings.co.uk and inquire online. You can also email us at [email protected] and we'll be very happy to answer any enquiries you may have.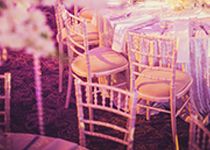 Chiavari Chairs
See More...